In the late 1970's outriggers were heavy contraptions with components that were nearly impossible to repair or replace. An avid sport fisherman, Mickey Rupp recognized the demand for a user friendly, easily serviceable outrigger. By 1980, he had designed and patented a variety of products that addressed these issues.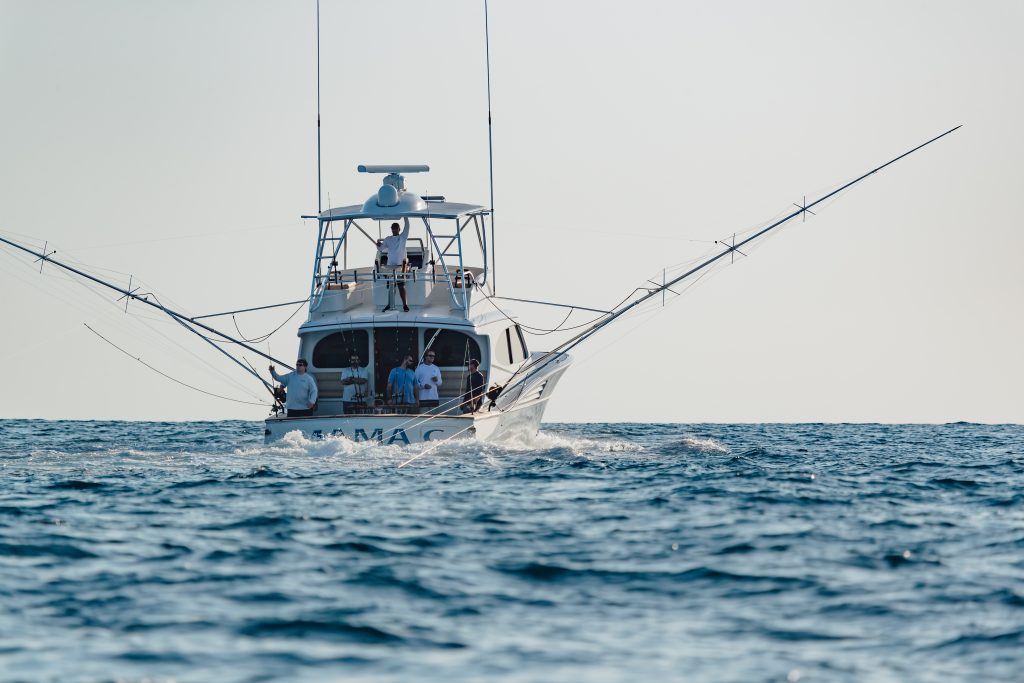 Mickey Rupp has had an interesting business trajectory. He founded Rupp Manufacturing in Mansfield, Ohio in 1959 and by 1970, the company was a leading force in the powersports industry, manufacturing and selling more than 70,000 minibikes and 35,000 snowmobiles per year. Rupp attributes much of his success to a "curious and innovative nature." He sold the company in the mid 1970's and moved to Florida where he quickly developed a passion for sport fishing. Rupp Marine was founded shortly thereafter.
A rapidly changing industry
Ron Karpanty, Vice President of Sales for Rupp Marine and son-in-law to Mickey Rupp, has seen some significant changes in the sportfishing industry over the years. Cleaning out his file cabinets recently, Karpanty came across hand drawn prints from iconic boat builders in the 1980's. He says that what stood out most was the fact that not a single boat was over 60 feet long.
"So, the most obvious change we have had to contend with over the years is the increase in boat size and speed," Karpanty says. "With that change comes the demand for larger, more rugged outrigger systems."
Rupp Marine utilizes the latest solid modeling programs, in-house 3D printing and other rapid prototyping techniques to create systems that can withstand the harshest tournament fishing conditions, while simultaneously offering the comfort and safety of pushbutton outrigger deployment.
Choosing a system
For custom boats, Rupp Marine provides the builder with computer generated solid models to present the customer with an accurate representation of how the system will look and function on the boat. They also take into consideration where and how the customer will fish, to further refine the product offering.
For retrofits or replacement systems, Rupp Marine references their database of previously sold outrigger systems. If the customer doesn't know what they need, the employees at Rupp Marine can quickly present them with a variety of options which will fit their boat based on similar past installations.
Hydraulic vs. conventional outriggers 
Rupp Marine offers both hydraulic and conventional systems for boats ranging in length from 18-feet to well over 100-feet. Their hydraulic outrigger systems have hydraulic power units, custom aluminum cylinders, and patented locking mechanisms. Though the cost is considerably higher than a conventional outrigger setup, the obvious benefit is a push-button or remote-control deployment and retrieval of the outriggers.
"Larger outriggers, multiple helm stations, advanced electronics, and complex control systems all require the captain's attention," says Karpanty. "Rupp Powerriggers provide a safe and easy way to deploy and retrieve the outriggers by allowing the captain to remain at the helm."
Caring for your outriggers
The anodic coating on the outrigger isn't so different from the brightwork on the boat. Karpanty recommends a fresh water rinse, cleaning with mild detergents, followed by an application of protectant. This should take place regularly and after each use. Often overlooked, the hydraulic cylinders should be extended and rinsed when possible, occasionally applying a coating of marine lubricant to the inside sleeve. Tuning should also be performed anytime the outriggers are removed from the boat.
"Outrigger tuning is kind of a catch all phrase, but we use it to mean the practice of removing the outriggers and checking the cable tension, taking time to replace worn or missing bushings and visually checking cables for signs of wear," says Karpanty.
For the recreational program this is usually recommended at least once a year, but tournament programs may require more frequent tuning. Karpanty says that tuning is also a good time for those with hydraulic outrigger systems to inspect thru-hull connections and fittings for signs of leaks, check hydraulic oil levels and change the filter.