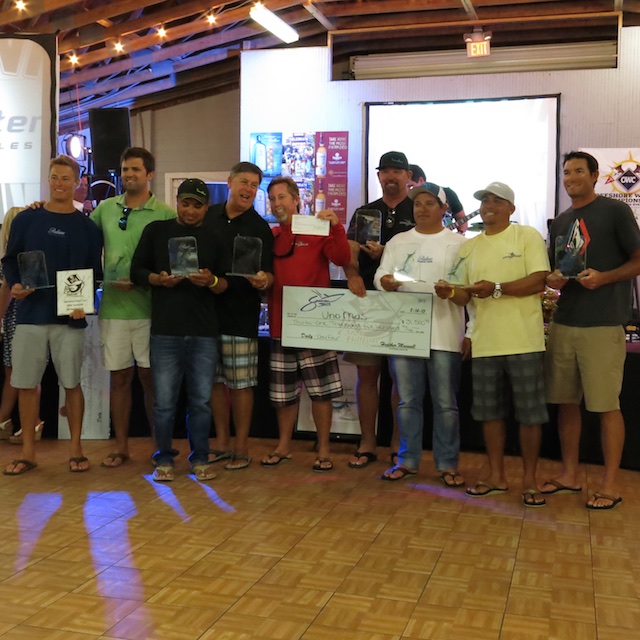 Congratulations Team Uno Mas, who came in first place in the 2016 Pirate's Cove Billfish Tournament!
A good recap of the tournament as seen in the Virginian Pilot follows:
With Day Three leaders Rigged Up and Legacy fished out and layed at the dock for the final day of the 33rd annual Pirate's Cove Billfish Tournament, Team Uno Mas took advantage of its position, catching five billfish and leaping from third place to first to win the event and pocket $144,665.
With Capt. Tom Lynskey of Costa Rica at the helm, and mates Jeremy Cubillo of Costa Rica and Sean Gallagher of Stuart, Fla., working the cockpit, the team finished with 1800 points on 18 billfish releases to edge the next two boats by two fish.
Anglers on Uno Mas were Robby Biber and Brooks Smith of Ft. Lauderdale, Mike Lemon of Miami, Bill Haley of New Jersey and Ivana Lynskey of Costa Rica. Smith was named the tournament's overall top angler with nine billfish releases.
Rigged up's three-day catch of 16 billfish held up on time of catch to take second place and $114,965. Bullwinkle used the last day of fishing to surge past Legacy and capture third and $52,520, also on 16 billfish.
Team Mister Pete with Capt. Alan Neiford won the blue marlin release division with three fish good for $84,420.
Wendy Hayes on the Bi-Op-Sea was the top female angler with nine billfish, while Parker Byrd on Smoker was the top junior, also with nine billfish.
The 72-team fleet caught and released 40 blue marlin, 277 sailfish and 203 white marlin during four days of fishing.
Several teams split much of the $612,000 purse, with prizes ranging from $5,000 up. Several teams took home as much as $31,185.
Lee Tolliver, 757-222-5844, lee.tolliver@pilotonline.com
Lee Tolliver
Lee Tolliver is a born-and-raised local who has fished all his life and started working at The Pilot in 1976. He covers high school sports, along with the outdoors.